Airport Service
Getting places is always better with a trusted taxi service closeby, isn't it? Yes! When you touch down at IAD, DCA, or BWI, Fairfax Yellow Cab near the airport will pick you up and get you to your hotel, business meeting or the sweetest location there is – home. Trust the best Fairfax taxicab company to manage your rides from and to the airport – whether as a part of a regular travel package or on sporadic occasions. Either way, you'll get the best service at the best rates in town!
Why Do I Need an Airport Taxi Service near Me in Fairfax County?
Because you want to get to your desired location in ultimate comfort, at the best rates in town, don't you? That's where Fairfax Yellow Cab dominates the scene!
– Tell your virtual assistant (whether that's Alexa, Siri, Cortana or any other) the following: "get me the nearest airport taxi now", "find me a cab close by", or something along those lines to get a Fairfax Yellow Cab instantly
– A fine-tuned yellow four-wheeler will appear within minutes and a driver pop out of the car to assist with your luggage
– Once your bags are put in the luggage area/trunk, confirm with your appointed driver the destination you'd like to go, and let the ride begin
– When you get comfortably seated, unwind after a long flight or get comfy on your way to the airport
Which Washington DC airport should you fly into?
That depends on your living (i.e., starting location) and what works as the most convenient option for your regular travels. In case you didn't know, none of the airports serving the greater Washington D.C. area are seated in Washington D.C. Two, Dulles (IAD) and Reagan (DCA) are located in Northern Virginia, while Marshall Airport (BWI) is outside of Baltimore, Maryland. So, consider the potentially fastest routes, give us a call, and let's plan your trip!
In case the airport is your desired destination instead of a starting point, apply the same booking process. Contact your favorite cab company near Metropolitan Washington DC Area, book your ride, and hit the road without a care in the world. In case you have any additional stops to make, don't hesitate to let us know. Your cab service of choice is in the vicinity and always ready to follow your instructions. The number to call for all information, bookings, and updates is 703-534-1111.
BOOK AIRPORT SERVICE
Let's get booking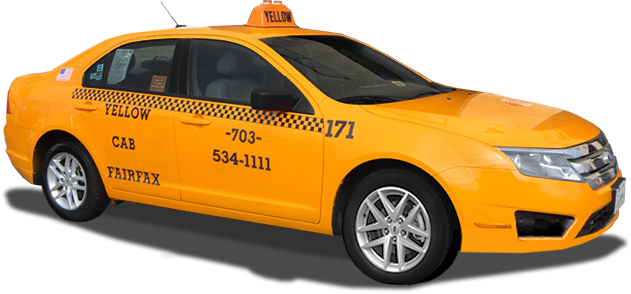 From full-sized cabs to wheelchair accessible vans, Fairfax Yellow Cab makes sure your transportation needs are met, and expectations exceeded. A well-maintained fleet of cars with ample space and beautiful interiors sure makes for the best taxi service there is! Going green? Yes! Fair Fax's hybrid "greener" cars are actively paving the way to a cleaner environment.
Book Now